Sciences and Technologies for Space – a ground up overview
The Online Workshop "Sciences and Technologies for Space – a ground up overview" is organized by the Universities of Coimbra and Porto in the framework of GeoPlaNet - SP Project.
About this event
Master degree courses in astrophysics and planetary geosciences are intrinsically interdisciplinary. Their prospective students are graduates with a great diversity of backgrounds covering physics, earth sciences, engineering, mathematics, biology, ... It is, therefore, important to promote these courses, highlighting not only their core curricula, but also the opportunities opening in space research and the career prospects in space industry.
The workshop "Sciences and Technologies for Space – a ground up overview" will bring together the partner institutions of the GeoPlaNet consortium, representatives of technological enterprises operating in this sector, researchers in Space Sciences, high school graduates and higher education students. The bottom-up approach is intended to provide students with an overview of real problems and of how these are handled. The language of the workshop will be English.

Register on : https://www.airmeet.com/e/48495850-ff8d-11eb-b718-31bbc3b6e1b2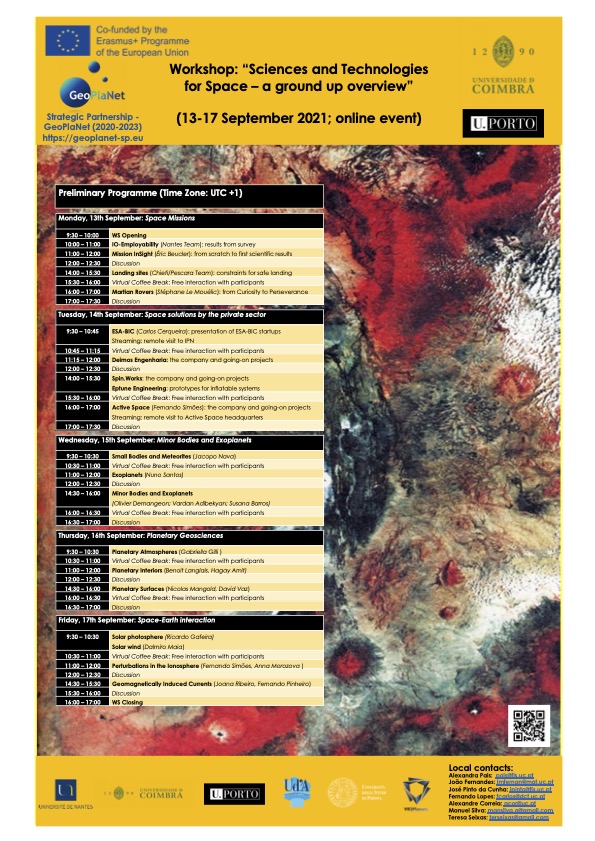 More information on the workshop
You can reach us through: Alexandra Pais: pais@fis.uc.pt & João Fernandes: jmfernan@mat.uc.pt
Organizing Committee:
Alexandra Pais (DF/OGAUC-UC)

João Fernandes (DM-UC)

Fernando Lopes (DCT-UC)

José Pinto da Cunha (DF-UC)

Alexandre Correia (DF-UC)

Manuel Silva (Dep.Fis.Ast.-UP)

Teresa Seixas (Dep.Fis.Ast.-UP)
GeoPlaNet-SP Activities
The programme of activities and results will be gathered in 4
work packages
, containing education modules,
innovative tools
and intellectual outputs based on the joint and complementary expertise of the partners involved.
1. Employability

Surveys on employability in the space exploration sector, workshop gathering private companies and academics




2. Innovative training practices

Overview on existing educative practices and a focus on Virtual Reality technologies applied to the educative field in Planetary Geosciences with an international meeting for exchange of good practice, training for trainers and a video of the use case of VR applied in training




3. Habitability

Intensive week with international experts and educative material based on a this hot topic



4. Geological mapping
and planetary
analogues

Summer school and field trip experience with 6 intellectual outputs related to

comparative planetology, digital mapping and numerical modelling
Mis à jour le 02 September 2021 par Marie-Pierre JOUSSE.